By C.J. Hirschfield
(March 8, 2023)
Some feature length documentaries transport you across the world, into space, or under the ocean, exploring fantastic and fascinating environments that you never could have imagined.
The Academy-Award nominee A House Made of Splinters takes place under just one roof, and the drama is no less compelling for it. Inside the walls of an Eastern Ukraine temporary shelter for children, there is compassion, friendship, love, and joy, mixed with fear, pain, and lost childhood.
In this co-production involving Denmark, Finland, Sweden and Ukraine, Director Simon Lereng Wilmont has, with great sensitivity, documented the lives of three kids who've been temporarily removed from their parents in an impoverished region where alcoholism and despair are rampant near the war's frontline. Caught in limbo between dysfunctional families incapable of caring for them and possible futures in state facilities or in foster homes, they find friendship, and receive loving support from a dedicated group of social workers.
"Every 10th door hides a broken family," says a worker, and another observes that "when one child leaves, another arrives." The combination of winter and war result in a facility that is more crowded than ever.
And yet the environment is surprisingly upbeat: Bubbles, dancing, music, toys, sparklers, presents and joy. But the kids' imaginative play games often reflect the trauma they've experienced.
Rebellious and demonstrating early criminal tendencies, Kolya steals, swears and smokes. He is at the same time tender with, and fiercely protective of his two younger siblings.
Sasha was left home alone for four days; her mother has never tried to contact her.
Eva has been at the facility two times, and recalls her drunk father stabbing her mother.  
In one particularly poignant scene, kids under a tent they've fashioned– complete with scarves and moody lights– pretend to be fortunetellers, and offer visions of their friends' futures.  One: "Your parents will stop drinking. You'll go home soon."
And another: "Your mother will die, you'll go to a foster home, have a bad time, marry, start working, you will drink heavily, your kids will live in an orphanage and you'll be homeless. That's your future. I see nothing more.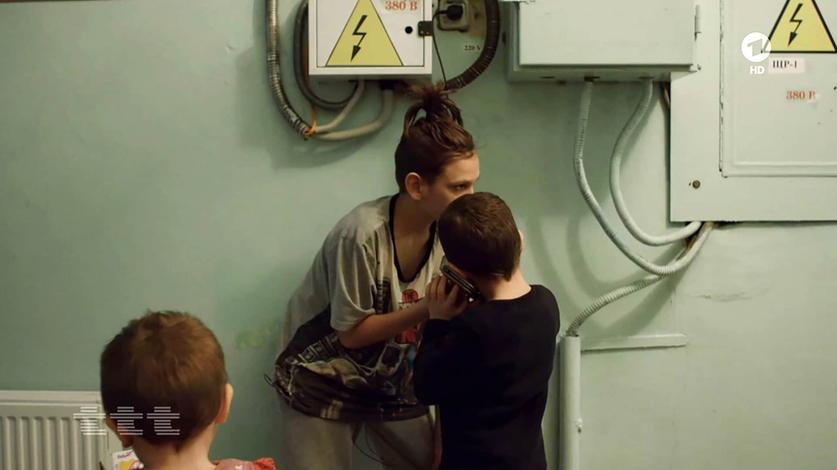 Sadly, as this last fortune suggests, the patterns do often repeat themselves. The deeply dedicated social workers say that children copy what they saw in childhood, and later return their own children to the shelter.
And yet, this really is a film about love and hope. Sasha is ecstatic to be turned over to her grandmother; Eva is taken in by a foster parent, and Kolya encounters some of his friends at the state orphanage. We can only hope that his intelligence and strength of character can will see him through adulthood.
It is doubtful that you will forget the images of these beautiful young kids phoning home—again and again—and getting no answer.
The acclaimed documentary can be rented or purchased from a number of online platforms will have its broadcast premiere on PBS as part of POV's 36th season starting this summer.
Learn more about A House Made of Splinters HERE.
The official website.
Simon Lereng Wilmont graduated as a documentary film director from the National Film School of Denmark in 2009 and has a BA inJapanese. He directed his first long documentary, 'Travelling with Mr. T' (2012), with Andreas Dalsgaard. The two short documentaries, 'Chikara – The Sumo Wrestler's Son' (2014) and 'The Fencing Champion' (2014), premiered at IDFA.
'A House Made of Splinters' (2022) won Wilmont a directing award at Sundance FIlm Festival. 'The Distant Barking of Dogs' (2017) won the award for Best First Appearance at its world premiere at IDFA. The film has also won a number of other awards at prominent festivals, including at Göteborg and Thessaloniki. His complete filmography and links to articles are HERE.
The Strange Journey of Surprise Oscar Nominee 'A House Made of Splinters'- Anne Thompson interviews Sundance winning director Wilmont for Indiewire.
C.J. Hirschfield recently retired after 17 years as Executive Director of Children's Fairyland, where she was charged with the overall operation of the nation's first storybook theme park. Prior to that, she served as an executive in the cable television industry where she produced two series, ran San Francisco's public access channel and advocated on behalf of the industry. A former writer for Film Month, she also penned a weekly column for the Piedmont Post for 13 years and now writes features and reviews for EatDrinkFilms. C.J. holds a degree in Film and Broadcasting from Stanford University.
Hirschfield currently serves on the programming team for the Appreciating Diversity Film series showing free documentaries in Oakland and Piedmont, as well as on the advisory board of Youth Beat, a youth media training program that provides low-income Oakland students with the tools and opportunities they need to thrive in today's workforce.
C.J. says, "A good documentary takes us places we never could never have imagined, and changes the way we see the world."