By C.J. Hirschfield
More and more often, documentary filmmakers are turning to animation to tell stories—or parts of stories—that can't be represented in any other way. In the case of the compelling new film FLEE, the storyteller spent much of his life since childhood in the shadows as an illegal Afghan refugee, and even now does not feel comfortable sharing his last name, or his face. It's understood that traditional documentaries involve some degree of manipulation, and animated nonfiction films provide even more leeway to let imaginations take flight.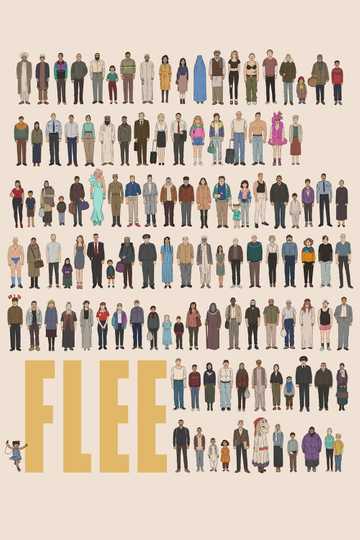 Which is probably why FLEE sets you straight at its very beginning, with the quote: "This is a true story." And what a story it is—an absolutely unforgettable one documenting a man's  harrowing, decades-long  flight to find a home in the world. "When you flee as a child, you are constantly on guard, all of the time," said Amin.
Grand Jury Prize winner at last year's Sundance Festival, the film by Jonas Poher Rasmussen is told in the words and voice of Amin, who is speaking to the filmmaker in an almost confessional way– the animated Amin is shown lying on his back, as if he were in a psychiatrist's office.  His story, which he has kept secret for 20 years, is both painful and poignant.
FLEE provides
more drama than most feature films, and skillfully holds our interest throughout. It begins with Amin's earliest memories, from 1984. Not only do we learn about his life and family, but about the political and military upheavals that have plagued Afghanistan for decades. Amin's incredible journey takes him to Moscow, Estonia, and ultimately, Denmark. There is a packed passage in the hold of a ship, a furtive and freezing escape through a forest, and a depressing Russian resettlement center. And while kindnesses appear along the way, so do corrupt police and officials, and inhumane traffickers whom Amin calls "psychopaths."
FLEE effectively utilizes music, photographs, and ambient sounds to tell the story. Black and white animation lacking detail seems appropriate to use for certain re-enactment scenes to underscore the shadowy world in which he must exist. Gaps are also filled with archival footage and photographs.
We feel Amin's emotions, including fear, shame, guilt, desperation, and ultimately, hope.
Amin's story of sustained trauma is made even more complicated by his homosexuality—noting that Afghans don't even have a word for it.  Given his deep love for his family (now scattered around Europe), he worries that they will reject him for being his true self.
Yes, ther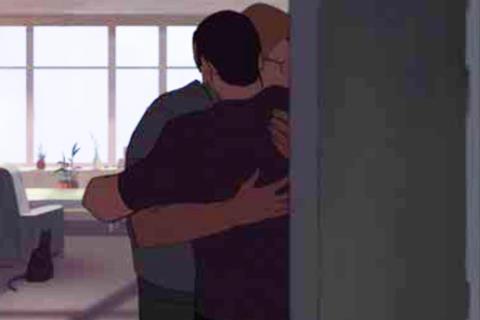 e is a lot of darkness in Amin's story, but also much love, and even a bit of humor (hunky males in posters wink at him). FLEE ends in Copenhagen with Amin having earned a doctorate and is with a devoted husband.
It's completely understandable—and poignant—that the closing scene shows—for the first time –Amin (with back to camera) in a house that he has just purchased. A home.
After seeing FLEE, you may never see refugees again without considering the price they and their loved ones had to pay in their quest to find peace in the world. This is a timely and important story, well-told.
The film ends with the question:
                                                                               "What does the word 'home' mean to you?"
Visit the Official FLEE website.
Winner – New York Film Critics Circle
Winner – Gotham Awards
Winner – Sundance Film Festival
Winner – Animation is Film Festival
Winner – Annecy Festival
FLEE is opening at theaters across North America in January and February. Find your nearest cinema here. It can be rented on streaming services. 
After you watch FLEE, visit here to learn how you can get involved and support refugees like Amin.
Images courtesy of NEON.
LINKS
#FleeMovie
See interviews with the filmmaker below.
C.J. Hirschfield retired after 17 years as Executive Director of Children's Fairyland, where she was charged with the overall operation of the nation's first storybook theme park. Prior to that, she served as an executive in the cable television industry where she produced two series, ran San Francisco's public access channel and advocated on behalf of the industry. A former writer for Film Month, she also penned a weekly column for the Piedmont Post for 13 years and now writes features and reviews for EatDrinkFilms. C.J. holds a degree in Film and Broadcasting from Stanford University.
Hirschfield currently serves on the programming team for the Appreciating Diversity Film series showing free documentaries in Oakland and Piedmont, as well as on the advisory board of Youth Beat, a youth media training program that provides low-income Oakland students with the tools and opportunities they need to thrive in today's workforce.
C.J. says, "A good documentary takes us places we never could never have imagined, and changes the way we see the world."
'Flee' Director Jonas Poher Rasmussen on How Animation Made it Easier to Revive the Past in his Film
Jonas Poher Rasmussen on Flee interviewed by Eugene Hernandez | New York Film Festival 2021
FLEE and the art of animated documentary | Jonas Poher Rasmussen – Q&A | Film Independent Presents