By Risa Nye
For those whose memories of high school days are a bit clouded and sentimental, TRY HARDER!, Debbie Lum and Nico Opper's documentary about students at San Francisco's academic powerhouse, Lowell High, will be an eye-opener. Parents of toddlers who are already buying Ivy League sweatshirts in size 3T might do well to observe what happens when kids who try hard sometimes learn that they need to re-define what success means in the college admission process.
While this film is about the students, it is also about the way support from caring teachers, parents, counselors, and peers has an enormous impact on the levels of stress these kids experience while trying to do all the things necessary to be competitive in a process with nearly impossible odds. As an example, the kids hear that Stanford's acceptance rate is around 4%. They already know how hard it is, but some will try and beat the odds anyway.
As a former college counselor familiar with Lowell High—the top ranked public school in San Francisco—I had an almost visceral response to watching the handful of great kids featured in this documentary as they struggle and strategize their way through applying to college. The film includes a look at each student's parental involvement, ranging from the self-defined "Tiger Moms," to one absentee dad, with levels of engagement and managerial interference that cover an extremely broad spectrum. It's easy to see the difference in how kids respond to the hands on versus the hands-off parental modus operandi.
Director Lum walked the halls, sat in Lowell's classrooms, and captured the spirit and angst that mingle on a daily basis in high schools everywhere. The kids are engaging and open, and viewers will find themselves wanting to grab those Stanford admission officers by the lapels of their blazers and urge them to see beyond what they think of as "Lowell machines." We are privileged to observe the five featured students as they go through senior (and in one case, junior) year, with all the ups and downs that are typical in a week—or a day— in high school.
We see Alvan, a kid who likes to dance and make people laugh, talking about "the box" his (overly?) protective mother keeps him in. This mom insists that her son apply to over twenty colleges and pushes him to attend a great school that may not be a smart choice for him. As a counselor, I saw this story play out many times, and seeing it again here brought back memories of trying to fit a "square peg in a round hole" when the chosen college was more about bragging rights for the parent and less about "good fit" for the student. I know that kids will often transfer after a year (or less) at a school when it just isn't right. (I couldn't help wondering if these students were successful at their chosen schools. Maybe there will be a follow up.)
The students know full well what it takes to get the nod from an elite university. There's that one kid (here it's Jonathan Chu) who everyone knows is "destined for greatness."  The students at Lowell, with a population of around 70% Asian American and Pacific Islander, know how they are seen by other schools and by the colleges they are applying to: the perception is that they are simply grade grinds and Advanced Placement juggernauts. The camera tells us otherwise. Director Lum has chosen her subjects wisely for their ability to openly communicate their hopes, dreams, and aspirations through the year as they follow the advice of some, reject the advice of others, and try to stay true to themselves. Plus, they are all accomplished kids with unique personalities and a variety of interests: something that should be obvious but needs to be said anyway.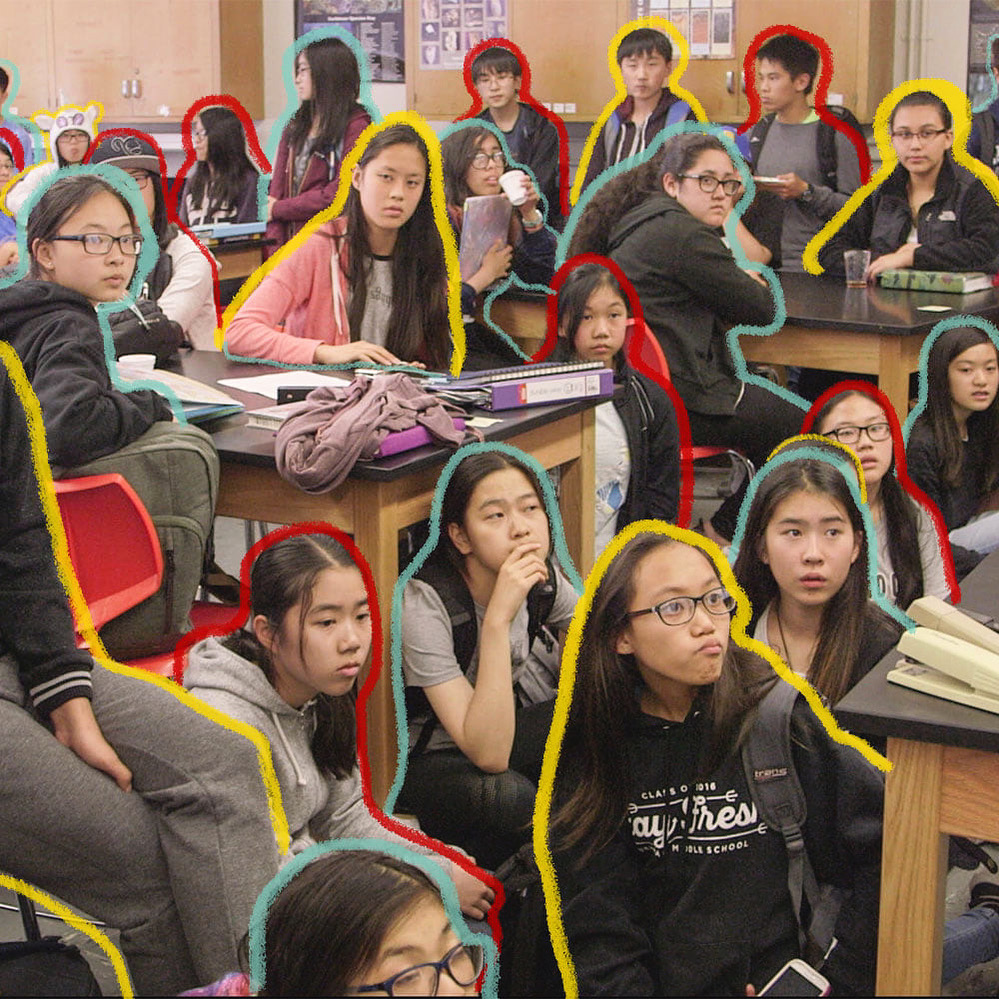 As you travel with them through the year: endure the rejections, rejoice at the acceptances, applaud them as they march (or dance) across the stage to receive their diplomas, and silently cheer for these amazing kids as they make the first big decisions in their young lives. And be grateful you're not applying to college right now.
                                             TRY HARDER! is currently available to stream online after a successful theatrical and film festival run. 
Directed by Debbie Lum & Nico Opper
84 minutes in English
Learn about how to host a screening and sign up for updates on the film and the Impact Campaign.
The Press Kit offers information on the filmmakers and the featured students plus a lengthy interview.
Follow the film and subjects on:
In Conversation with TRY HARDER! director Debbie Lum and film participants Sophia Wu and Richard Shapiro
Q&A with co-Directors Debbie Lum & Nico Opper, and subject Ian Wang for 2021 festival film TRY HARDER!
Risa Nye is a San Francisco Bay Area native. Her essays, stories and articles have appeared in a wide variety of publications, San Francisco Chronicle, The Monthly, Hippocampus Magazine. She has an MFA in creative writing from Saint Mary's College in California.
Enjoy her essays and reviews, including her forays into the world of mixology as Ms Barstool, at www.berkeleyside.com, and on a range of subjects at www.risanye.com.
She co-edited Writin' on Empty: Parents Reveal the Upside, Downside, and Everything in Between When Children Leave the Nest.
Her memoir, There Was a Fire Here, was published by She Writes Press in 2016.
Her books can be ordered wherever books are sold. Start with your local independent bookseller or Find it here at Indiebound or Author's page at Amazon.com
Risa has written about food, beverages, and movies at EatDrinkFilms (at the end of each page hit "older posts" for more).