by Gary Meyer
Have you ever lost contact with the outside world, deep in the Amazonian rainforest with an Indian tribe, drenched by storms, attacked by deadly insects and experiencing hallucinogenic encounters with a jaguar? And the sounds—oh those sounds of the jungle forever in your brain.
If so— you are a rare adventurer but the play The Encounter can change that. Though you will leave dry and unbitten the visual and audio images will stay with you and possibly change the way you think about both theater and the world.
ATTENTION: THE ENCOUNTER was presented as an online experience but ended Monday, May 25, 2020. Sign up to be alerted of future presentations. 
When we walked into the beautifully restored Curran Theater in San Francisco a voice asked us to try on the headphones hanging from our seats. Once on our heads there were sounds and instructions to be certain it worked properly before the show started. A technician came on stage, checking microphones, water bottles and equipment. Shortly after the scheduled start time he asked us to turn off our cell phones as they could affect the electronics essential to the play's effectiveness. He said we would wait a few more minutes for latecomers and suddenly he looked at his lit phone and with a bit of embarrassment said it was his 8-year-old daughter texting. He talked about how many photos and videos of her he had on his phone—possibly more than all the family photos taken by his parents over many years. And then his daughter called wanting him to say goodnight.
At this point we realized the play has actually started and we have been pulled out of reality into his fiction. But where do the fiction and fact separate?
We are asked to put on our headphones as writer/co-director/actor Simon McBurney starts to demonstrate the various microphones and gadgets and how he will use them to pull us into the story he is about to tell. One tall standalone microphone looked like a man's head and he explained that it's a binaural mic able to collect sound all around and create a 3D audio experience that provides the illusion of certain things happening. He asked us to close our eyes while he blew hot breath in our ear. A mosquito seemed to be flying around my head and I wanted to swat it away.
"Open your eyes" and he showed us what really was happening. Then a plane buzzed from one side past us to the other as McBurney held a simple stick in front of him as if it were the wings of his aircraft about to land in the deepest rainforest.
McBurney explained how we would hear multiple voices. As the narrator with his British accent he set the stage of a true story about National Geographic photographer, Loren McIntyre, a deeper-voiced American who got lost in the Brazilian rainforest in 1969. Many years ago McBurney had read a novel based on McIntyre's story, Amazon Beaming by Petra Popesco. It had haunted him and he explained how he finally had a revelation to make it into a play.
And those questions about fact and fiction soon became a constant as McBurney invited us to join him as his plane landed in the deepest forests of the Amazon to start our journey in search of the elusive indigenous Mayoruna Indians. They are known as "Cat People" for the spikes they insert in their faces.
He posed the question, "I wonder what I am starting," speculating that his photos and stories could bring anthropologists and then reporters. That invasion might change the tribe's lives forever. But McBurney wants to explore more. When civilization comes looking, will it influence the lives of these isolated self-sustaining peoples?
McIntyre spotted some tribesmen and left his camp without marking a trail, following them to their village. Would they accept him or be hostile? A chief who he nicknamed "Barnacle" befriended him. Though they did not speak a common language the two men communicated by looking at each other's eyes. And there appeared to be a form of telepathy as McIntyre kept getting a message in his head, "Some of us are friends."
A series of adventures follow including a flood, illness, shamanistic experiences, and tribal relocations taking them further away from McIntyre's camp and chances of ever getting home.
While one could experience much of the play with your eyes closed I think what is happening on-stage is fascinating. The sound of walking on leaves was made from old videotape that had provided a surprising plot turn—one that again questioned reality and fiction. Plastic water bottles were used for sound effects as well as delay pedals and other simple devices. Paul Anderson's effective lighting mostly projected on a back wall of soundproofing material created one environmental illusion after another.
McBurney and his team's choice of bringing the storyteller and the audience together via individual headsets for this adventure into the "space-time-mind continuum" works beautifully. His sound designers, Gareth Fry and Pete Malkin are wizards.
For some the nearly two-hour performance may be overwhelming. There is no intermission. It could have been shortened because the experience is so overwhelming. Knowing that it might be too much to keep us in the jungles once we arrived, the play occasionally jumps back to McBurney's home where his daughter interrupts him to ask for a bedtime story or to ask question. This effectively breaks things up, brings us back to a reality we can relate to and allows McBurney to ask himself questions about the journey—and then we are back deep in a world we will most likely not personally experience.
After taking his bows from an audience on their feet with enthusiasm, McBurney once again challenged what was real and not. He held his hands up to signal that he would like silence.
"It's a lie. I am not alone. There are many people here who create this show with me" and he brought out the sound and light masters plus others who make the experience truly unforgettable.
The Encounter was directed by Kirsty Housley and Simon McBurney at Complicite, an adventurous London-based theater company that McBurney co-founded and is the Artistic Director. Like The Encounter, many of their visionary productions tour around the world offering a blend of cerebral and physical storytelling enhanced with technological techniques. This show opened on Broadway in the fall of 2016 and it's completing a national tour in San Francisco.
I saw The Encounter in New York and was excited to have another chance in San Francisco.
Live Streams have occured since the Corona 19 Lockdown. To be notified of future events sign up for email annoucements.
A fascinating article offers a case study in live streaming theater.
An online discussion with Simon McBurney and guests recorded on Wednesday May 20, 2020: watch on Facebook
Multiple videos about Complicite's projects can be watched here.
==========================================================================
The official site has plenty of fascinating information on the making of The Encounter.
Read a New York Times interview with Simon McBurney.
A recent National Geographic article about photographer Loren McIntyre features a selection of his photographs.
National Geographic writer, photographer, and explorer Loren McIntyre perches at 18,200 feet in the Peruvian Andes..
During a yearlong survey of the Amazon River, McIntyre discovered its most distant source. Meltwater from the snow below him trickles down to a tiny lake to start on its majestic course. Photo by Richard Bradshaw, National Geographic.
A plane swoops close to an 877-foot waterfall pouring into a tributary of Peru's Apurimac River, which is the Amazon's source. Photo by Loren McIntyre, National Geographic.
Read more about The Encounter.
Videos about the creation of The Encounter.
The book Encounter: Amazon Rising can be purchased at The Curran, local bookstores, or online from Amazon or Indiebound.
The script for the play is also available at the Curran.
Simon McBurney writes about his own Amazonian voyage that exploded time.
Take a virtual trip to the Amazon River with Google Maps.
Early in 2017 Simon McBurney agreed to become an official Survivor Ambassador. Survival International exists to prevent the annihilation of tribal peoples and to give them a platform to speak to the world so they can bear witness to the genocidal violence, slavery and racism they face on a daily basis. By lobbying the powerful SI helps defend the lives, lands and futures of people who should have the same rights as other contemporary societies. Join Simon McBurney in supporting their work. Learn more here.
WHAT IS GOING ON AT THE CURRAN?
Longtime live theater producer Carole Shorenstein Hays left her "SHN Best of Broadway" to restore the classic San Francisco Curran, possibly most famous for it being a location in the Bette Davis classic movie All About Eve.
I grew up seeing many plays at the Curran, an historic theater next to ACT's Geary, the core of San Francisco's live theater district with the San Francisco Playhouse, Marines Memorial, Stage, Shelton, Exit, Cutting Ball, and others nearby. Some might even remember the Stage Door and Alcazar.
Shorenstein Hays guided a team to restoring murals and other auditorium details while creating a comfortable place with great sightlines and terrific sound to experience theater.
She is in the midst of her first season having opened Fun Home, Eclipsed and now The Encounter. A Pop-Up Magazine event is set for May 31 & June 1 and a special staging of Taylor Mac: A 24-Decade History of Popular Music has just been announced for September and no doubt will sell out its single cycle of four parts as soon as tickets go on sale.
"McSweeney's at the Curran" program books are keepers. As the traditional Playbill programs have become thin and of little interest, Berkeley Repertory Theater and ACT have created informative books with interviews and background for each play. But none have been like this one produced by McSweeney's, the publishing house founded by Dave Eggers. Their new 826 Valencia has recently opened a youth writing and tutoring center nearby in the Tenderloin. The first three books are rich in articles and images that make the theater experience one to remember with this souvenir.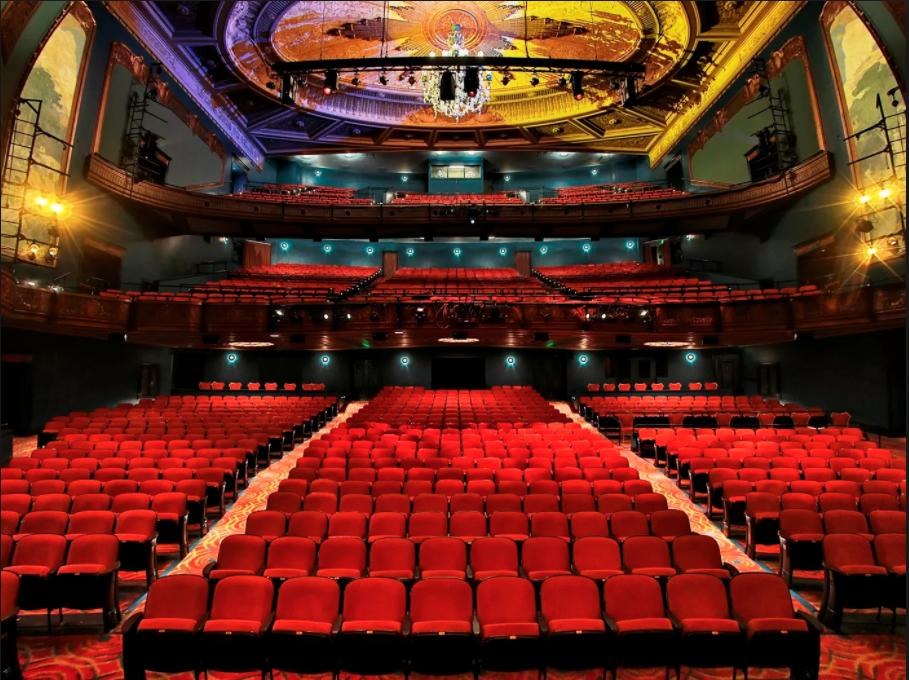 No subscription ticket program has been offered but when the next season is announced I suspect that will be part of the news. In the meantime do sign up for the email list so you will know about special events. There have been free events including a terrific audio tour behind-the-scenes at the Curran that is likely to be repeated.
Read an interview with Carole Shorenstein Hays here.
SOUND RUNNING ROUND YOUR BRAIN
How the Binaural recording works.
A demonstration of the Binaural Dummy Head Microphone—best experienced with headphones. 
A crazy binaural audio tour through Times Square, New York; a virtual barber shop; and a 360-degree Beck concert. Wear headphones.
SAN FRANCISCO SOUND INNOVATORS
In her introduction to The Encounter in the Curran program book, Carole Shorenstein Hays welcomes Simon McBurney and his team to San Francisco as a place where sound experimentation has flourished. She mentions Ray Dolby and George Lucas as leaders in the field.
The bay area is rich in sound history beyond these two high profile pioneers, much of it no doubt influencing Simon McBurney either directly or indirectly.
From 1957 to 1960 an experimental music and film production lead by Henry Jacobs and experimental filmmaker Jordan Belson called Vortex was presented at the Morrison Planetarium and then the Museum of Modern Art. The performance included music tracks for playback on 38 speaker system. Henry Jacobs experimented with sound and film, comedy and a variety of creative areas. "He invented this idea of surround sound," says Walter Murch, film editor and Academy Award-winning sound designer for Apocalypse Now. "A sound that moves all the way around in the theaters is directly linked to the kind of experiments that Henry was doing at the Morrison Planetarium. It's now the standard format for film sound."
NPR produced an entertaining four-minute piece upon Jacobs' death in 2015. Listen.
Interviews, music and videos of Jacobs are on the Smithsonian Folkways Magazine site.
The San Francisco Tape Music Center has long been the home of experimental music and electronic instruments guided by its co-founders Morton Subotnick and Ramon Sender who collaborated with Terry Riley, Pauline Oliveras, Steve Reich, and William Maginnis. The original studios of the San Francisco Tape Music Center (c. 1964). From left to right: Tony Martin Bill Maginnis (engineer), Ramon Sender, Morton Subotnick, and Pauline Oliveros.
Many more videos are available on You Tube.
The Tape Center moved to Mills College in Oakland where Darius Milhaud, Henry Cowell, Meredith Monk, John Cage, Dave Brubeck, Harry Partch, Luciano Berio, Karlheinz Stockhausen, Lou Harrison, William Colvig, Pandit Pran Nath and Fred Frith have taught and/or made music. Don Buchla created the Buchla Synthesizer in 1963 while working there. In film school I was able to create a score for a short movie on the Buchla Synthesizer.
Read more about SFTMC here.
The UC Berkeley Center for New Music and Audio Technologies (CNMAT) houses programs in research, pedagogy and public performance that are focused on the creative interaction between music and technology.
In 1965 as a senior in high school I first experienced Audium. Still operating, it is a place for true sound immersion. The theater's 176 speakers bathe listeners in sounds that move past, over and under them. "Sound sculptures" are performed in darkness in the 49-seat theatre."
While Virtual Reality, with its 360-degree sight and sound immersion has a long history it was the bay area's Atari that started a VR research lab in 1982. When it closed after two years several of its employees continued to develop the concept. From this group Jaron Lanier, also a composer and musician, popularized it.
The major innovators of sound systems that are part of our lives certainly start with Ray Dolby in San Francisco and his Dolby Laboratories. Their technology is used in many places, especially movie theaters and home sound systems. It specializes in audio noise reduction and audio encoding/ compression. More background.
One of their most recent successes is with Dolby Atmos, a surround sound system.
The company has new headquarters on Market Street featuring one of the best places to see a movie in the bay area.
George Lucas, concerned about poor sound in theaters, put engineers to work developing THX so that the intergalactic sounds in his films and the audio worlds created by others would sound their best. The Wikipedia entry states: " The THX system is not a recording technology and it does not specify a sound recording format: all sound formats, whether digital (Dolby Digital, DTS, SDDS) or analog (Dolby Stereo, Ultra Stereo), can be "shown in THX". THX is mainly a quality assurance system. THX-certified theaters provide a high-quality, predictable playback environment to ensure that any film soundtrack mixed in THX will sound as near as possible to the intentions of the mixing engineer."
John and Helen Meyer established Meyer Sound in 1979 after years of hearing musicians complain about how terrible their performances sounded. They set out to build speakers and sound systems that would correct this and created self-powered loudspeakers, multichannel audio control systems, electroacoustic architecture and audio analysis tools. Their systems have been installed in auditoriums all over the world. Bay area venues include Davies Symphony Hall and SFJAZZ's Miner Auditorium; in the east bay Berkeley Repertory Theater, Zellerbach Hall, Freight & Salvage and the UC Theatre. While their equipment has most frequently been incorporated into jazz and classical venues as well as touring Broadway shows, they have created special sound for the Grateful Dead, Cirque De Soliel, Francis Ford Coppola, Metallica, Dolly Parton and Judas Priest to name a few. In recent years they have ventured into cinema sound and a process aimed at making noisy restaurants not so noisy. With over 300 employees Meyer Sound builds everything at their West Berkeley location.
Read more in the New Yorker and Cal Alumni Magazine.
And that doesn't even touch the music composed and performed by bay area artists in classical, avant-garde, opera, R&B, jazz, electronic, rock ' n roll, hip hop, rap, folk and blues. In 2012 the SF Weekly created an eclectic group of "The Top 20 Greatest San Francisco Musicians" and a runner-up list. Both left out dozens of local musical innovators from John Handy, MC Hammer, Goapele, John Adams, Marcus Shelby, Benny Green and Dave Brubeck to Kronos Quartet, Bonnie Raitt, the Clubfoot Orchestra, Green Day, Paul Desmond, Cal Tjader, Michael Franti, The Tubes, Mac Dre, Country Joe and the Fish, the various Escovedos, Penelope Houston, Tom Waits and Tupac Shakur.
Larger lists of bands and musicians but still incomplete list and Ranker's list of famous bands from San Francisco.
It is generally felt that radio was born in the Bay Area with the pioneering projects of Lee de Forest and Charles Herrold. The Bay Area Radio Museum and the allied California Historical Radio Society are wonderful places to learn the history, hear classic shows and keep up on current activities.
In 1957 two Stanford students, James Gabbert and Gary Gielow launched their own radio station, KPEN at 101.3 on the FM band. They started a nightly program called "Excursions in Sound" which featured a range of surprises from music to comedy to sound effects, selected to challenge the "fi" of home audio equipment. This is the kind of records they might play.
Though radio was not capable of broadcasting stereo yet, in 1961 the show became "Excursions in Stereo" which required an AM and an FM radio to hear both channels.
Learn more and listen to actual "Excursions" broadcasts here.
THEATER IN THE MIND
There is a scene in The Encounter where deadly ants are crawling along a table and around the stage, cleverly brought to life via projections. It reminded me of the short story Leiningen Versus the Ants by Carl Stephenson. I remembered hearing it as a radio thriller and sure enough it was produced several times. Here are two very different versions, one for a 1948 "Escape" broadcast and another for "Suspense" in 1957. Both happen to star William Conrad but are quite different in their approach and both are exciting.
Read the original story to compare with the radio dramatizations.
Radio dramas can be highly effective, offering us dialogue, sound effects and music to create a world that each of us imagines differently in our mind's eye.
Before he became a movie wunderkind, Orson Welles was ruling the radio airwaves with "Mercury Theater," "The Shadow" and other shows (a selection here). His 1938 broadcast of The War of The Worlds, possibly the original "fake news," is probably the most famous. It reportedly caused widespread panic as many listeners turned on after it started and some believed earth had been invaded by aliens from Mars.
In 1965 KPEN radio produced an updated version set in the San Francisco bay area. Listen in stereo here.
Of the hundreds of really effective radio productions, two of the most visceral for me are from Arch Obler's "Lights Out" series.
The less you know the better but be prepared for a pretty frightening 8 minutes with The Dark and the half hour Chicken Heart.
After you listen read about how Obler and his team used sound effects for maximum impact.
A terrific selection of other scary radio shows was collected by the A.V. Club here.
Theater of the Mind is a PBS TV series recreating classic radio drama where you can watch the performance with actors and sound effects created live for the broadcasts, just as they were done in the Golden Age of Radio. Watch here.
If only they were in surround sound.