By Mihaela Mihailova
On paper, Pixar's Turning Red, a film about a thirteen-year-old Chinese Canadian girl whose entry into puberty causes her to transform into a large red panda every time she feels a strong emotion, is not for (or about) me. I am not of Chinese descent. I did not grow up in Toronto (or in North America, for that matter). My parents are not immigrants (I am). I have yet to transform into a large beast, unless we count persistent pandemic weight gain. More importantly, I am not one of Oscar-winning director Domee Shi's friends and immediate family members.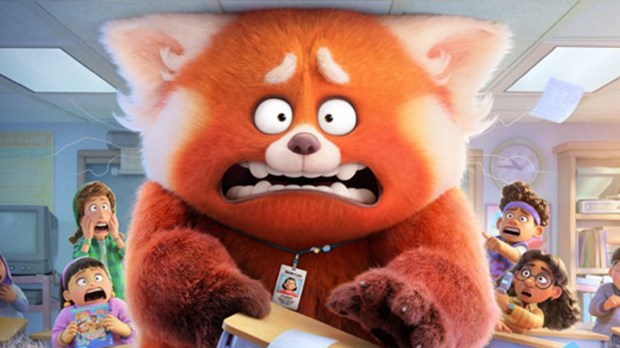 And yet, while I am not personally acquainted with the first woman to direct a Pixar feature solo, she appears to know me quite well. At the end of eighth grade (in 2002), my school asked me to put together a time capsule for my future self. My submission was a solid effort, but it has nothing on Turning Red's pitch-perfect portrayal of early 2000s girlhood. I had not seen my adolescence so vividly, truthfully resurrected since Bo Burnham's brilliantly bittersweet feature Eight Grade (2018). To quote a now-retired Saturday Night Live favorite, Turning Red has everything: Tamagotchis, boy band obsessions, lusty notebook doodles, unhinged fanfic, and regrettable fashion accessories. Watching it felt like flipping through an old yearbook: embarrassing, hilarious, endearingly familiar.
For the first time, I could truly relate to the draw of nostalgic media. This was not a narrative about nerdy boyhood in the 1980s. Or about young men heroically conquering virtual reality with their elite gamer knowledge. Or about a beloved fictional 90s action figure who is now inexplicably an actual man. It was about my girl crew and so many of the things we went through. We were awkward and clumsy. We were horny and confused about it. We were gloriously, joyfully unhinged. We were beautifully cringe. And that's worth reminiscing about. After asking Millennial women to sit through three feature-length movies about talking cars because of self-proclaimed "big kid" John Lasseter's personal interests, the least Pixar could (finally!) do is make us feel truly seen for once.
That being said, Turning Red's appeal is not simply generational. This Asian-led Pixar production has been recognized for paving the way for better AAPI representation at the studio and in mainstream North American animation more broadly. The film has resonated with Chinese-American teenagers and with audiences from mixed-race households, who have voiced appreciation for Shi's commitment to centering childhood experiences and family dynamics that evoke their own. To quote writer Madeline Carpou, who has shared the emotional impact that this film's cultural accuracy had on her, "I can only imagine how validating it would have been to have this movie when I was younger." Shi's narrative has also been embraced by immigrant families, including viewers who don't share Meilin's cultural or national background. For example, in an article titled "I Saw my Family's Jewish American Story in Turning Red," Rachel Rumstein describes the film as "endearing, emotional and unsettlingly accurate mirror for children of immigrants everywhere." Not all responses to the film's approach to Asian representation have been positive, however. Jane Hu, writing from her perspective as a "Chinese immigrant who grew up in Canada around the same time as Shi and Meilin," takes the movie to task for leaning into the stereotype of the overbearing Chinese mother. As she puts it, "in its effort to meld a celebration of Chinese culture with the destigmatization of gendered taboos, Turning Red renders these tropes as at once hyper-specific and alienating. The movie's Asian stereotypes are neither winkingly ironized nor reanimated into something like realism."
This complicated tension between the film's universal appeal and its cultural specificity is undeniable and will no doubt continue to inspire popular and academic discussion. And yet, even with its lack of nuance and representational shortcomings, Turning Red remains notable – and important – for positioning the problems, experiences, and desires of a Chinese Canadian girl as the driving force of its narrative. Meilin's perspective shaped the film's visual style, too; Shi has shared that the production team "pushed the colors into paste-ly, fresh, playful palettes and tried to make the audience feel what Mei feels at any given moment." As others have noted, this is a bold choice, especially in the context of a studio that has remained a boys' club for over three decades. It is also certainly a much-needed course correction in an industry plagued by extreme gender and racial disparity, both in terms of the workforce and the stories being told. For that alone, Turning Red is certainly worth celebrating.
That is, unless you happen to be a conservative American parent. A deep dive into the audience review section on well-known review aggregator site Rotten Tomatoes reveals a perfect storm of moral panic meltdowns. This film's transgressions? The audacity of (indirectly) mentioning periods! The horror of discussing young girls' budding sexuality! A slew of one-star reviews describes Turning Red as disconcerting, shameful, and inappropriate. User Joseph P. objects to a film that "encourages the objectification of young boys by young girls," making one wonder what he would have to say about animated content wherein the gender roles are reversed (i.e. almost all of them). Presumably typing with one hand in order to clutch her pearls with the other, Elisabeth P writes, "the main character screaming about her 'sexy' drawings, in a children's movie? It's disappointing Disney would try to put this in a child's mind at such a young age." But my personal favorite comes courtesy of user Hone G, who reports that "we got about 15 minutes in before I had to turn it off, the movie made us feel extremely uncomfortable as it was rated PG but felt like an M." Nobody tell them about the dildo martial arts fight or the butt plug martial arts fight in Everything Everywhere all at Once, another excellent recent film exploring the relationship between a Chinese immigrant mother and her daughter. Or that this isn't even the Disney brand's first venture into menstruation-themed content.
If drawing one's crush as a merman or referencing menstruation through a poetic euphemism (red peony blooming) is too indecent for American parents, there may be little hope for improvement in this country's questionable sex ed record. If anything, Turning Red is disappointingly tame for a film about the monsters of puberty and generational trauma. However, this did not stop the New York Times for dubbing the film "unabashedly female." Which begs the question, was it supposed to be…bashfully female? Looking at the reviews above, the answer is, clearly, yes. The parental backlash against Turning Red says more about the persistence of narrow-minded and sexist attitudes towards girlhood than it does about Pixar's alleged moral degeneracy. We expect teen girls to be ashamed of who they are. We teach them to feel guilty about their desires. We frame their sexuality as a dangerous or outright forbidden topic. We force them to cover up in school. We deny them access to crucial healthcare. It's no wonder that, in this context, an animated film which dares tell girls to embrace and treasure who they are, teen hormones and all, seems a step too far.  
Parents have accused Turning Red of inciting rebellion in their impressionable kids through its depiction of typical teen behavior such as sneaking out, talking back, and keeping secrets. User reviews have described these story beats as "anti-parent," "completely inappropriate," and (this one is inspired) "unnerving." Reading through this feedback has been a blessing in disguise, as I am now more resolved than ever to advocate for media literacy as an integral part of the school curriculum. The thing is, parents claiming the film encourages child disobedience and impertinence have clearly lost the plot. Turning Red does not teach children to respect their elders less; it teaches them to respect themselves more. This is not a subtle message, either. Early on in the film, the protagonist herself spells it out: "honoring your parents sounds great, but if you take it too far, well, you might forget to honor yourself." Then again, to return to my earlier point, perhaps there is no misunderstanding at all. Perhaps a girl honoring herself is what's unnerving.
But that's not all. Frequent invocations of the film's PG rating and the Disney/Pixar brand point to the real reason why Turning Red has ruffled so many parental feathers. It's not simply that it offers a refreshingly honest take on the awkward, manic, emotionally charged side of a girl's entry into puberty. It's that it does all this while being animated. Lest we forget, in American culture, "animated" remains synonymous with "corporate product for kids that parents must begrudgingly endure," to borrow Phil Lord and Chris Miller's excellent formulation. Even the Academy of Motion Picture Arts and Sciences remains insultingly dismissive of the medium's complexity and reach. No wonder parents think Turning Red needs to stay in its lane. Never mind that, as I mentioned above, the film is actually for women in their thirties.
It's time to decide, once and for all. Is animation just a silly children's distraction, or is it a legitimate art form whose politics matter? We can't have it both ways. Especially not when there are still so many diverse, important stories to be told.
Turning Red is streaming on Disney+ and other digital platforms. It will be released on Blu-Ray May 3.  Info, articles and videos here.
For more selected videos, photos and articles see below.
Mihaela Mihailova is an Assistant Professor in the School of Cinema at San Francisco State University. She has published in Convergence: The International Journal of Research into New Media Technologies, Feminist Media Studies, animation: an interdisciplinary journal, Studies in Russian and Soviet Cinema, Flow, and Kino Kultura. She has also contributed chapters to Animating Film Theory (with John MacKay), Animated Landscapes: History, Form, and Function, The Animation Studies Reader, and Drawn from Life: Issues and Themes in Animated Documentary Cinema. Dr. Mihailova is the co-editor of Animation Studies and currently serves as Secretary of the Society for Animation Studies.  Several of these pieces are available online. Her edited volume, Coraline: A Closer Look at Studio LAIKA's Stop-Motion Witchcraft, is available from Bloomsbury Publishing.
Mihailova was born and grew up in Bulgaria before moving to New Haven in 2006. She received her B.A., M. Phil. And Ph.D all from Yale.  For more look at her SFSU page.
Watch more "Behind-the-Scenes" clips here.
                                                                                                                   Deleted scenes
Director Domee Shi's shot film produced at Pixar, Bao can be watched here.
                                                                      The influences on director Domee Shi on her animation.
Disney's first animated film dealing with menstruation was an educational film. In fifth and sixth grade classes the boys were told to go out and play while the girls watched and discussed this sensitive time. 
Extended interview with TURNING RED director Domee Shi & producer Lindsey Collins at VIEW Conference
                                                                                            Extended Preview (9 minutes)
21 "Turning Red" Behind-The-Scenes Facts That Anyone Totally Obsessed With Pixar's Latest Should Know.
13 Going On Panda: "Turing Red" Director Domee Shi Shares the Inspiration Behind her Pixar Film
                                                                                             All images courtesy of Disney/Pixar.