Music multi-hyphenate Ben Fong Torres' sister Shirley Fong-Torres was a chef, writer and created food tours of San Francisco's Chinatown.
Shirley's easy—and classic—recipe for congee (rice porridge) is one of C.J. Hirschfield's all-time favorites; perfect for cold nights.
                                         Shirley Fong-Torres' Jook
                                                        Rice Congee Soup (Jook)
Creamy, slightly salty, and thick like porridge, jook is a popular Chinese breakfast. Rice congee is comfort food with a capital 'C.' It's one of recipe developer Fong-Torres favorites, great when the weather is cold. Make a pot of congee soup, and set out bowls of condiments (chopped onions, parsley, ginger, and soy sauce) so diners can season to taste.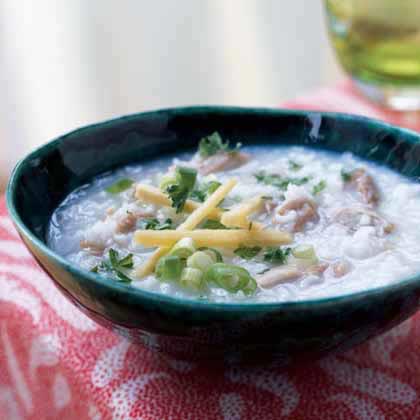 Yield:
6 servings (serving size: about 1 cup)
Ingredients
Ingredient Checklist
9 cups water
1 cup uncooked long-grain rice
2 teaspoons salt
1 fresh turkey wing or thigh (about 1 pound)
1 (1/2-inch) piece peeled fresh ginger (about 1/4 ounce)
Chopped green onions (optional)
Minced fresh parsley (optional)
Julienne-cut peeled fresh ginger (optional)
Low-sodium soy sauce (optional)
Directions
Instructions Checklist
Combine first 5 ingredients in a large Dutch oven, and bring to a boil over medium-high heat. Cover, reduce heat, and cook 1 1/2 hours or until soup has a creamy consistency, stirring occasionally. Remove from heat; keep warm.
Discard ginger piece. Remove turkey from soup; place on a cutting board or work surface. Cool 10 minutes. Remove skin from turkey; discard. Remove meat from bones; discard bones. Chop meat into bite-sized pieces, and stir meat into soup. Divide soup evenly among 6 bowls; garnish with green onions, parsley, julienne-cut ginger, and soy sauce, if desired.
Nutrition Facts
Per Serving:
207 calories; calories from fat 23%; fat 5.3g; saturated fat 1.5g; mono fat 2g; poly fat 1.3g; protein 13.5g; carbohydrates 24.7g; fiber 0.4g; cholesterol 33mg; iron 1.9mg; sodium 809mg; calcium 26mg.
Thank you to Wok Wiz and My Recipes for permission to use this recipe.
Shirley wrote four books. Ask your local independent bookstore or Omnivore Books if they can order them for you before using the book monster.
Probably her most well-known tour, "I Can't Believe I Ate My Way Through Chinatown" is still offered by the company she created Wok Wiz.  
She passed away in 2011.
Ben wrote about his sister for Asian Connections.
Carolyn Jones wrote a loving appreciation Shirley for the San Francisco Chronicle.