THE BIGGEST LITTLE FARM is a film that takes us through a wild ride of emotions with the team who have made Apricot Lane Farms a success under the guidance of Molly and John Chester. One of the most important end products is food and they have created many wonderful recipes. EatDrinkFilms is thrilled to have been given permission to offer some of them to you.
Traditional foods are the real, whole, unprocessed ingredients of our ancestor's kitchens. These simple foods nourished us for centuries, before modern food processing turned our health upside down.
The Apricot Lane Farms believes in focusing on simple recipes with high quality ingredients- that's really the heart of the traditional foods movement. Their culinary team, led by Molly Chester, is proud to share a few favorite recipes with you and your family to try at home.

Grilled Zucchini and Onion with Warm Italian Vinaigrette
A joke amongst farmers living in the country is that you don't leave your doors unlocked because a neighbor will fill your kitchen with zucchini.  The reason is that zucchini plants are so productive!  Molly has faced a bag of zucchini and dinner-time many times, and this recipe evolved from one of those nights.  Zucchini is so beautiful, when grilled, and carrying over the grill heat with a warm dressing makes this dish accessible and yet, special.
If you happen to not share Molly's recent obsession with Fresno peppers, they can either be omitted or substitute 1/4 tsp crushed red pepper flakes for a slightly spicier end result.
2-4 people 

25 minutes 

Moderate
Ingredients
1 tbsp melted ghee

1 medium sweet onion

2 medium zucchini

4 tbsp extra virgin olive oil

2 tsp minced garlic (approx. 2 cloves)

2 tbsp minced sweet onion *

1 tsp Fresno pepper, minced

1/2 tsp + pinch + 1/2 tsp sea salt, divided

1/4 tsp + pinch + 1/4 tsp fresh cracked pepper, divided

1 tbsp apple cider vinegar

1 tsp Dijon mustard

1/2 tsp local honey

1 tbsp chopped fresh basil

1 tbsp chopped fresh oregano, plus leaves for garnish
Instructions
Over medium heat, warm a grill-pan.
While preheating, lightly brush the pan with melted ghee and then, prepare onion and zucchini.
For the onion – Cut off the top and bottom of the sweet onion. Peel.
Using the center chunk of onion, slice width-wise to create 4 – 1/4″ rounds of sweet onion.
Brush both sides with ghee and sprinkle with a pinch of salt and a pinch of pepper.
For the zucchini – Cut the top and bottom off the zucchini. Slice in half, width-wise, then slice both pieces in half, length-wise. Make one additional slice length-wise, resulting in 8 – approximately 4″ spears of zucchini.
Repeat with the second zucchini, resulting in 16 total spears.
Place in a medium bowl, and add remaining ghee (approx. 1 1/2 tsp), 1/2 tsp sea salt and 1/4 tsp pepper. Toss to coat.
Once grill-pan is preheated, add onions to the pan. Make sure to grill the onions first because the zucchini is best served warm.
Grill the onions for 5 minutes on each side, using a spatula to turn gently, which allows the rings of onion to stay nestled together.
Remove and set aside on a clean plate to wait for the zucchini. Grill all three sides of the zucchini for 3 minutes each, using tongs to gently turn.
While vegetables are grilling, in a small saucepan, combine extra virgin olive oil, garlic, minced sweet onion, Fresno pepper, sea salt and pepper. Stir to combine.
Warm over medium-low heat until gently simmering. Simmer for 2 minutes.
Reduce heat to low and whisk in apple cider vinegar, Dijon and honey. Vinaigrette will remain broken, without fully emulsifying.
Maintain a low heat until vegetables are ready.
Once all vegetables have been grilled, pile neatly onto a serving plate.
Whisk chopped basil and oregano into the broken vinaigrette and pour over the grilled vegetables.
Garnish with oregano leaves and serve warm.
Recipe Notes
* Use the leftover top & bottom from creating the onion rounds to create 2 tbsp minced onion.
Sorta Raw Kale Salad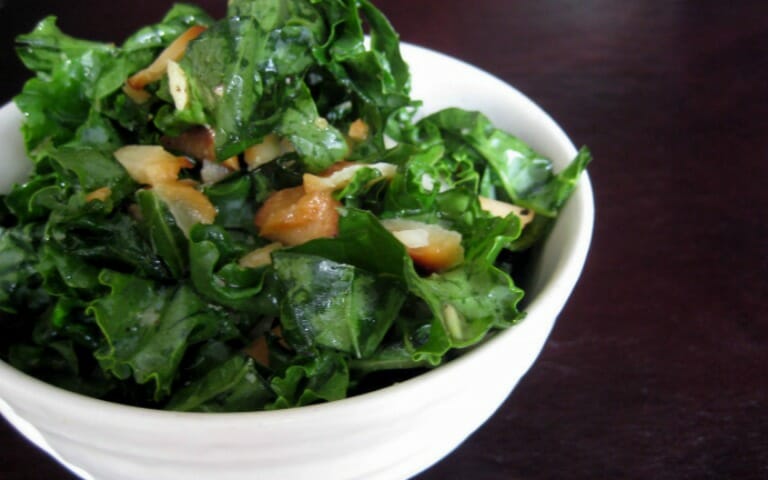 Kale is such a great thing to grow in a home garden, especially in California.  Leaves can be pulled from the plant without killing it, so the kale can literally be harvested from the same planting for nearly a year in our mild climate.  After a while, the aphids begin to find the plants, as they are getting a bit weak, so look for that as a sign to replant, but until that time, those plants will keep giving and giving.  This simple salad is a great answer for what to do with all that kale.  When Molly cooks for her family, she doesn't even wash the greens.  She knows there were no chemicals used in the growing process and eating vegetables without washing from time to time adds beneficial soil based organisms to the diet, just give it a once over for any bird droppings!
We enjoy toasting the macadamia nuts for flavor, which prevents this salad from officially being "raw."  Regardless, it's refreshing and energizing.
4 people 

5 min active / 1 hr chill . 

Easy
Ingredients
1 bunch kale, rinsed, chopped and thoroughly dried

1/4 cup chiffonade basil *

1/2 cup toasted macadamia nuts, chopped

1/4 – 1/3 cup lemon juice, to taste

2 tbsp extra virgin olive oil

1/4 tsp sea salt, to taste

1/8 tsp black pepper
Instructions
In a large bowl, toss kale, basil and macadamia nuts to combine.
In a small bowl, whisk together lemon juice, olive oil, sea salt and pepper. Pour over kale and toss to combine.
Refrigerate for 1 hour before serving.
Recipe Notes
*Chiffonade is simply thinly sliced ribbons of kale.  To achieve this, line up several leaves of basil into a small stack.  Tightly roll the basil length-wise to form a long cigarette shape and slice, forming long ribbons.  Begin with 1/4 cup, and add to taste, based on the size of the kale bunch used.
How to Sauté Kale includes a simple way to strip kale from the stock.
Kefir Strawberry Ice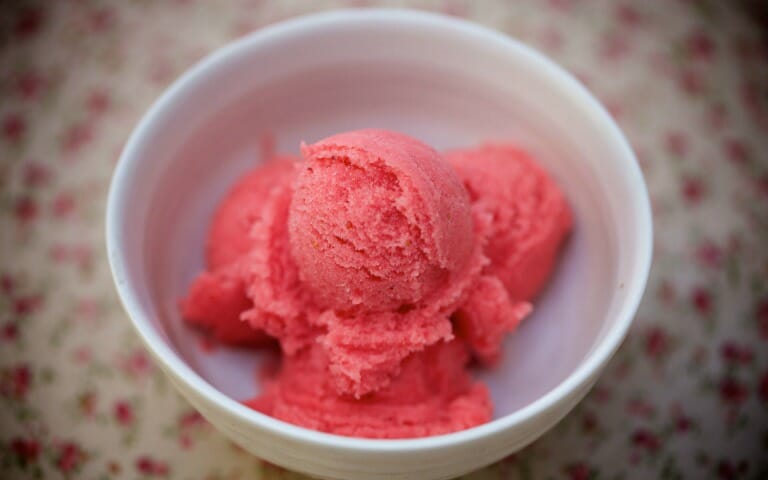 We could not love this simple recipe more.  It hits all the marks – great use of excess summer strawberries, probiotic rich with the use of kefir and lightly sweet with raw enzyme-rich honey.  Nutritious and delicious – kids and adults will love this.  Pairs perfectly with a night of burgers on the grill.
The mixture should be like soft-served ice cream when poured into the glass container to freeze.  If it is too loose, like a smoothie, add more strawberries, as the texture will depend on the size of the strawberries used.
1-1/2 quarts  

5 minutes . 

Easy
Ingredients
5 cups whole frozen strawberries

2 cups raw plain kefir

¼ cup raw honey

juice of 1 lemon
Instructions
Combine all ingredients into a high-speed blender.
Use a spatula to scrape down the sizes and encourage the mixture together, when necessary.
Pour into a glass container.
Freeze to desired texture. If completely frozen, allow the dessert to sit at room temperature for 10 minutes before scooping.
Apricot Lane Farms Lemonade

Living on a farm with over 30 acres of lemon trees encourages one to acquire a killer lemonade recipe!  And, we have!  We use this recipe for all of our farm events, and it is always a hit.  Sometimes when we have extra lemon juice from making our Bourbon Lemon Marmalade recipe, we will mix up a concentrate of just lemon juice and honey for the freezer.  Then when an event comes around, we just add water!
By using a blender instead of heat to quickly emulsify the lemon and the honey, the beneficial enzymes and delicate nature of the unpasteurized raw honey are preserved.
Yield: 8 Cups .  

10 minutes .  

Easy
Ingredients
1 cup raw honey

1 cup freshly squeezed lemon juice

6 cups water
Instructions
In a blender, combine the honey and lemon juice.
Blend on high for 30 seconds.
Add water and pulse to combine.
For more great recipes check out Molly's book and the websites below.
Back to Butter: A Traditional Foods Cookbook
Back to Butter is the offering of a mother (Sandy Schrecengost) and daughter (Molly Chester) who found their way to Traditional Foods via personal health challenges and years of trial and error.
The Back to Butter recipes evolved from recognizable family recipes that simply received a bit of a facelift. The journey to this book was authentic, and the information within these pages is personal, filled with stories from the farm and laced with the depth that only comes from knowing one another for a lifetime.
John Chester has written a children's book, Saving Emma the Pig book. Signed copies can be ordered from the Farm Shop.
Read Gaetano Kazuo Maida's review of THE BIGGEST LITTLE FARM.
THE BIGGEST LITTLE FARM Film Website-Everything you want to know about the movie and where to see it.
Facebook -The best way to keep up on current activities
Apricot Farms website– All about the farm, the people who work there, recipes, videos, getting involved and more.
Molly Chester's Organic Spark blog is filled with wisdom, recipes and videos including some Ophrah Super Soul Sunday videos.
John Chester's website will inform you about John's various projects, past and present.